Please click on one of the following links for your species imaging specification.
This page contains imaging attributes that are shared between species as to not duplicate designs for each.
Model Recognition
How To Read a Color Pallet
Cosmetics (Females Only)
Eyebrows (Human/Twi'lek)
Freckles (Human/Twi'lek/Zabrak)
Shared Eye Color Pallet (Transdoshan/Twi'lek/Wookiee)
Shared Hair Color Pallet (Human/Zabrak)
Shared Skin Color Pallet (Human/Zabrak)
MODEL RECOGNITION:
Bothian Female and Male: Tralmek's Temporary Models
Human Female: Pyxie Mylar-Steel (Eyebrows and Hairstyles)
Human Male: Maxmun Steel (Freckles and Hairstyles)
Human Male: Iden' Adet (Facial Hair)
Ithorian Female: Tralmek's Temporary Model
Ithorian Male: Savyk Ganeog
Mon Calmari Male: Ehot
Rodian Female: Theewo
Rodian Male: Ikahi
Transdoshan Male: Inoctabane
Twi'Lek: LaurnaRose Fauldorn-Infernus
Wookiee Male: Chulraka
Zabrak Female: Yen Varelse
Zabrak Male: Zealotquell Varelse
HOW TO READ A COLOR PALLET
All color pallets are to be read row x column, and are based on MASTER IMAGE DESINGER'S pallets. If your image designer is not yet a master, the pallet will vary depending on their skill, and you will not be able to use the pallet formula as per this site.
For example, on the following cosmetic chart, if I wanted to choose black eyeshadow and lip color, I would tell the image designer 4x8 for both.
Cosmetics (Females Only)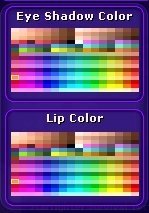 Eyebrows (Human/Twi'lek)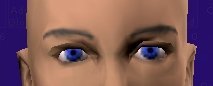 Style 1

Style 2

Style 3

Style 4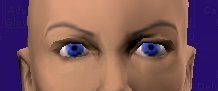 Style 5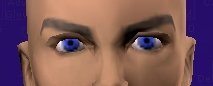 Style 6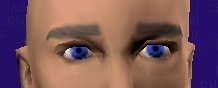 Style 7
Style 8

Style 9
Freckles (Human/Twi'lek/Zabrak)
(We will be posting better decernable photos of
freckles in the near future)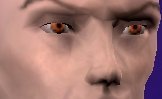 Style 1

Style 2

Style 3

Style 4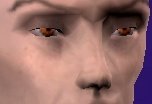 Style 5
Shared Eye Color Pallet (Transdoshan/Twi'lek/Wookiee)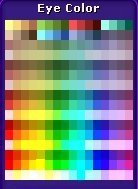 Shared Hair Color Pallet (Human/Zabrak)

Shared Skin Color Pallet (Human/Zabrak)